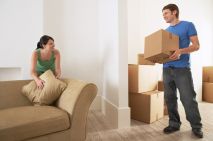 A piano can be one of the most difficult things to move when moving home. This is why people often leave them behind for the next owner, and why so many people give away their old piano providing the new owner can take it away. An entire specialist branch of home removals has grown up, dedicated to making sure that people have an expert option for moving pianos. But what is the best method? How can you ensure that that treasured family heirloom is able to make it into the new home, that it can be enjoyed by the next generation? As well as sentimental value, there are also very expensive models, even those which are not grand pianos (a variant which this article will not cover) can have a high value and it does not make sense to simply give it away because of the large amount of effort involved. The first thing you should do when moving a piano (if you have not hired professional help) is to plan your route. Make sure you know exactly where the piano needs to go and how it will get there. Make sure to measure the door ways, to consider any particular difficult angles which might present an issue and use a tape measure and a bit of imagination to plan the best way around these problems. Many pianos will feature small wheels, which can make moving them a great deal easier, but if this is not the case then consider finding a small trolley/truck. If you can lift the piano onto this small wheeled platform then you will have a far easier time. Likewise, if there are any stairs involved then take extra care when planning your route and figuring out how the piano will best be manoeuvred across these obstacles. When it comes to actually moving the piano, one of the most important things to do is to get as much help as possible. While the weight might not be difficult in and of itself, the awkward shape and size of a piano can often present problems. As well as extra muscle power, extra bodies can also bring in extra ideas, helping you figure out how to get the piano around a particularly tricky corner without too much hassle. Getting your friends to help may take a bit of persuading but will be worth it in the long run. Bribes and gifts can go a long way to convincing them. As you move the piano along, be careful not to rush. There can be a temptation to burst through the procedure and to try and get it over with as quickly as possible. This can often lead to larger problems though and opens you up to more strains and difficulties health wise. Remember to lift using the correct posture, saving your back from possible health concerns. Taking the process slowly, work the piano out of the house at a steady pace, following a pre-planned route. Do a test run just before in order to make sure that the cost is clear. If the piano is to be transported in a lorry or van, or to be otherwise exposed to the elements, consider wrapping it up in protective layers, such as plastic or bubble wrap. This can prevent bumps and dents as well as water damage. The last thing you want is to expend yourself moving a piano, only for it to arrive broken. If the piano has brakes, make sure to apply them during transit to stop the instrument rolling around. If not, be sure to tie it down and secure it as firmly as possible. Once it is in the van, merely follow the procedure in reverse when you reach your destination.
More posts
Hiring removal service to help assist you on the move can benefit you in many ways. As much as...
Removal services are great for helping a person move home or business, as well as help assist on...